While searching for articles we hope our readers will find interesting and informative, we came across two that segue nicely.
The article by Josh Bersin we found on ERE.net predicts that 2014 will be the "Year of the Employee". Bersin states that we've entered a period of tough competition for talent. He cautions us that companies who provide the best culture will attract and retain the best talent. He also outlines seven points that companies should consider that will be employee-sensitive and attract the level of talent companies need.Comparatively, the article by Peter Harris on Workopolis speaks to a survey that reveals Canadian CEO's hiring predictions and the "Ten attributes Canadian CEOs say they're most looking for in new hires". Harris tells us that CEOs of companies surveyed in all sectors & regions of the country expect to fill between 700,000 and 800,000 positions in the next five years and rates the attributes that "entry-level hires" will be evaluated by. When we absorb the messages in both articles, it would appear that companies will be competing for recruits with strengths in soft skills that set up career paths toward management and that these sought after recruits are more likely to carefully analyze employment culture as much as employment duties.
In today's strengthening market we are witnessing candidates receiving multiple job offers more frequently than any time since 2008. These candidates display the core competencies companies are looking for in the next wave of leaders following we Baby Boomers and we're finding that these candidates are carefully evaluating the workplace cultures of the companies making the job offers. They're being careful to join the companies that display the best opportunities allowing them to realize their maximum potential. That brings us back to the "Year of the Employee" article, doesn't it? Enjoy the articles.
– Jim Fairfax, jimf@kitchenerexecutive.com
Ten Attributes Canadian CEOs say they're most looking for in New Hires
workopolis.com, Peter Harris
January 29.2014
A new survey by the Canadian Council of Chief Executives reveals that Canadian employers plan to fill between 700,000 and 800,000 positions in this country over the next five years.
Almost half the employers surveyed said that their organization would be hiring over 2,000 people. Fourteen of the largest companies indicated that they would be filling more than 10,000 positions.
While these opportunities are expected across all sectors, the largest gains are anticipated in financial services, insurance, telecommunications, energy, mining, construction, transport and retail.
Part of this hiring is expected to be spurred on by older workers retiring. 36% of the employers surveyed said they expect 11% or more of their workforce to retire over the next five years. Eight companies are expecting over 20% of their staff to retire by 2018, and one large manufacturing company is expecting to see fully half of its workforce retire.
However less than 30% of those surveyed expressed confidence in being able to replace the skills of retiring workers with new hires.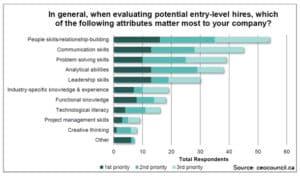 What are hiring managers looking for?
People skills/relationship-building
Communication skills
Problem solving skills
Analytical abilities
Leadership skills
Industry-specific knowledge & experience
Functional knowledge
Technological literacy
Project management skills
Creative thinking
One CCCE member summed it up by saying, "Attitude always comes first. Recruits must be passionate about learning, contributing and fitting into the company's culture."
Several respondents indicated that co-op programs, apprenticeships and other forms of integrating school with practical work are considered to be important sources of relevant work experience for new recruits.
More than 75% of employers surveyed said they hire co-op students through partnerships with one or more colleges, polytechnics or universities. They also said that they plan to increase their co-op programs in the future.
This is in line with other recent studies that have shown that employers are much more likely to hire graduates who have earned real-world experience through co-ops. Students from co-op programs also earn higher average starting salaries than their fellow graduates.
CCCE members feel that students who have worked at co-op placements while studying graduate with more confidence and the on-the-job skills needed to "hit the ground running".
Several employers also spoke about the importance of summer jobs, part-time work, volunteering, and extra-curricular activities when deciding between candidates. These experiences look good on a resume, and they can be an excellent way for entry-level candidates to demonstrate the development of their transferable 'soft' skills.
The Canadian Council of Chief Executives represents 150 chief executives and leading entrepreneurs in all sectors and regions of the country. Its member companies collectively employ 1.5 million Canadians. This survey was conducted and during October and November of 2013, and released in January 2014.