For years now we have been bombarded by the mindset that we need to change, to re-invent ourselves to keep pace with international competitors.  While Continuous Improvement, Lean Manufacturing and Six Sigma methodologies have all certainly added significant value in keeping our companies alert, focused, responsive, agile and cost-competitive, they don't necessarily have to mean completely reinventing ourselves.

Just as improvement in operational effectiveness is logical and fundamental, maintaining core values and business philosophies should be equally judicious and maybe at times even more important.  Companies that have survived recessions when competitors have disappeared must have done so, in part, because of core values that motivated and mobilized employees. While we might logically improve systems, procedures and adjust business models we shouldn't want to dramatically change those core values that have contributed to long term success if it puts such success at risk.
When we meet with clients who speak about needing 'Change Leadership', we ask them to describe their core values, the "magic fairy dust" that is inherently a contributor to their success. Surprisingly, a lot of clients initially have difficulty articulating their own "magic fairy dust", but through dialogue it begins to take shape and we are able to use it as their ambassador during Search Projects. More importantly, those core values can become "repeatables' that any Continuous Improvement exercises should enhance not change.
This month's article by Chris Zook & James Allen capsulizes research they compiled to write their book "Repeatability". The article highlights the enhanced competitiveness that comes from the repeatable core values of product and service, to the quicker decisiveness of employees operating with the same core values. So, even as we are bombarded with the messages of change, we should also keep in mind our own personal "magic fairy dust" and resist the temptation to change everything. Enjoy the article.    
Jim Fairfax, jimf@kitchenerexecutive.com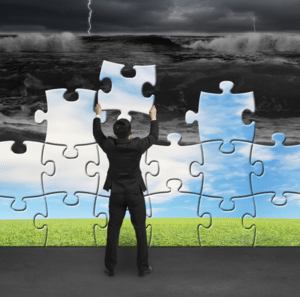 REPEATABILITY: THRIVING AMID CONSTANT CHANGE
Chris Zook and James Allen – May 2014
 Though many companies reinvent themselves in response to change, triumph comes, too, to those that focus on a simple core strategy and learn to replicate and adapt early successes over and over again.
From its iconic blue-and-yellow stores to its ubiquitous customer-assembled "Billy" bookcase, Ikea International Group is one of the most recognizable and admired companies in the world. With revenues of 27 billion euros [approximately USD35 billion] and more than 300 stores, the Swedish-based retailer has thrived by transforming the home furnishings market and making style affordable to young, urban consumers in more than 40 countries.
One thing it hasn't done, however, is "reinvent" itself.
Contrary to today's widely-held belief that companies must be prepared to fundamentally alter their strategies in response to a constantly changing global marketplace, leaders like Ikea prosper by doing the opposite: They focus on a simple core strategy and learn to replicate and adapt their early successes over and over again.
Bain & Co. research over the past decade demonstrates that simplicity, focus and continuous adaptation almost always trump strategies of radical change or reinvention. Enduring success comes not from choice of market or industry, but from the essential design of a company.
The recent book Repeatability, by the authors here, attempts to pinpoint the design principles that allow some companies to succeed even in tough and dynamic competitive arenas. Those companies are referred to as the "great repeatable models" because they do what they do best again and again, expanding into one market after another, learning as they go.
Since Ingvar Kamprad opened Ikea's first stores in Sweden during the 1950s, the company has encountered massive changes in its markets: new competitors, new technologies, Internet sales models and constant shifts in consumer wants and needs. Yet its repeatable model has adapted and endured. Its core features have changed only incrementally over the years.
Since its beginning, the company has sold all of its wooden furniture in flat packs for self-assembly by the customer. Every store incorporates a flow that encourages cross-selling. Every product is designed to hit a target selling price.
Ikea has not attempted to diversify into businesses that would require a different model. Instead, it has focused on maintaining its differentiation. Over time, it has made its economics more efficient and improved product design. It has carefully selected new product categories and geographic regions where its model can work.
Early on Kamprad encouraged an egalitarian corporate culture where everyone within the company has internalized a long-held set of relatively simple, transparent rules and principles. As a result, decisions at every level of the organization tend to reinforce and improve the model.
Three Principals of Great Repeatable Models
For companies as diverse as Apple Inc. and Danaher Corp., repeatable models built on a set of core strategic and organizational principles have a stabilizing effect. That helps leaders adapt to change logically, while avoiding the complexity and distraction that often accompany efforts at reinvention.
In research for Repeatability, the authors examined more than 30 different factors for 200 high-performing companies. They focused on two questions: What do these great repeatable models have in common? and What insights can other businesses most readily adopt? What emerged from the data and interviews with executives were three design principles that explained between 40 percent and 50 percent of performance variation within an industry:
Principle 1: A Strong, Well-Differentiated Core
Differentiation is the essence of strategy and the root source of competitive advantage. Successful companies focus on their differentiation and define it not as some artificial construct dreamed up in the boardroom, but as a set of daily activities. These shape how everyone in the company — and particularly frontline employees — behaves.
Employees may be focused on supporting superior cost economics (Vanguard Group Inc., Wal-Mart Stores Inc.), developing unique product features (Apple Inc.) or maintaining a leading position in a network or economic system (Vodafone Group Plc., Microsoft Corp.). The key is that the great repeatable models are sharply, almost obviously, differentiated relative to competitors resulting in greater profitability.
Their core activities — such as Ikea's flat-package furniture design or Apple's world-class product development — foster learning, constant change and improvement, and they erect further barriers to imitation.

Principle 2: Clear Nonnegotiables
A second factor is a common understanding among management and employees of the company's core values and the key criteria used to turn strategy into consistent decisions and actions — the nonnegotiables — which are embedded in the operations of great repeatable models.
Clear nonnegotiables in finance, operations and sales improve focus by hardwiring a few simple values and prescriptions throughout the organization. This has the effect of reducing the distance from management to the front line (and back). A belief in management's values and strategy also improves employee loyalty and commitment.
Ikea, for instance, insists on maintaining its cost edge by driving expense out of every detail of design and production. In 1996, the company decided to create a 50-cent mug. Designers avoided red pigments because they cost more. They increased the number of mugs on a pallet, eventually reducing shipping costs by 60 percent. The next-generation mug was further redesigned so that more could fit into the kiln, shaving manufacturing costs.
This clear nonnegotiable — cost discipline at every level of the organization — is a big part of what makes Ikea especially difficult to emulate.
Principle 3: Systems for Closed-Loop Learning
The key to adaptability is knowledge, and the great repeatable models have well-developed systems for learning and continuous improvement. They stay in close touch with customers and employees through methods such as the Net Promoter system, which measures loyalty. They learn from key operations and develop early-warning tools that allow them to anticipate fundamental change in the marketplace.
These companies understand that an inability to adapt or to respond urgently to a potentially mortal threat can derail an otherwise successful business. Think of Eastman Kodak Co. confronting digital technology, Nokia Corp. confronting smartphones or traditional airlines confronting low-cost carriers.
How Great Repeatable Models Succeed
The virtuous, reinforcing cycle found in the great repeatable models usually works as follows: Focus on a clear, repeatable differentiation (Principle 1), then embed that in the beliefs and measures used throughout the company (Principle 2), which will drive more transparency and learning so the company can adapt to industry and market changes (Principle 3). All that, in turn, pushes the entire business down an experience curve faster than less repeatable competitors.
The mutual fund company Vanguard is a great example of this virtuous dynamic. John Bogle founded Vanguard in 1974, with 11 mutual funds and $1.8 billion in assets. Because he believed passionately in
the proposition that no actively managed fund could outperform the market in the long run, he proposed passive funds that simply tracked market indexes.
Without high-paid managers and researchers, the funds could charge much lower fees than rivals. Instead of providing stock-picking advice, which Bogle saw as essentially useless, Vanguard offered customers responsive service and investment counseling.
Vanguard has remained true to this simple, stark differentiation, and the strategy has paid off handsomely. In 2009, in the depths of the financial crisis, it became the largest mutual fund company in the world, capturing an astounding 45 percent of the new money coming into the market that year. And while the firm has diversified over the years into new forms of indexed funds and new customer segments, it has never strayed from its core principles.
A key reason for Vanguard's consistency is that Bogle worked hard to weave the company's clear nonnegotiables into its culture. The company is named for HMS Vanguard, a 74-gun ship commanded by Admiral Horatio Nelson, one of history's greatest naval strategists.
Nelson's hallmark as a leader was to drench his subordinates so thoroughly in his philosophy of battle that he could trust them to act as he would in the heat of moment, rather than relying on cumbersome command-and-control tactics.
Emulating Nelson, Bogle called his employees "crew members" and rooted the company's highly egalitarian culture in a set of easy-to-understand "Simple Truths." Those values, which emphasize Vanguard's commitment to low costs, customer loyalty and long-term investing, inform everything the company does.
More Than One Formula
Research shows that there are multiple great repeatable models in almost any industry — even in highly competitive, mature ones — reinforcing the finding that performance is more about managerial decisions than the business you happen to be in. Consider, for example, the airline industry, which from 2000 to 2010 destroyed more than $200 billion in shareholder value. During that decade, 48 U.S. airlines filed
for bankruptcy and 90 percent of the top 100 global airlines failed to earn their cost of capital. Yet, amid the tumult, two very successful airlines created quite different great repeatable models.
One was low-cost carrier Ryanair Ltd., whose stock price more than tripled over that period. Its great repeatable model strips the airline experience and cost model down to its basics. The company was one of the first to charge for checked bags. It pioneered online check-in.
As CEO Michael O'Leary told The Wall Street Journal in 2009, "We're open about our policies: You're not getting free food. We don't want your check-in bags. We're not going to put you up in hotels because
your granny died. But we are going to guarantee you the lowest airfares in Europe, by a distance. And that's what people really want."
Now consider Singapore Airlines (SIA), whose financial performance is about its only point of similarity with Ryanair. SIA has been profitable every year since its founding in 1972. Its secret: It offers passengers just the type of service O'Leary derides. It can afford to do so because it is among the most cost-effective carriers in the business.
A detailed 2010 Business Times article about SIA's economics concluded: "SIA has combined the supposedly incompatible strategies of differentiation — service excellence and continuous innovation — and cost leadership. The dual strategy has become part of the airline's organiza­tional DNA over the years."
The Power of the Founder's Mentality
The essential makeup of a company's DNA — and the root material of all great repeatable models — is termed "Founder's Mentality." Fast-growing companies like Ryanair begin with a bold mission and a clear commitment to identifying and serving their most important customers. They rigorously develop the talent, routines and behaviors that transform industries.
Too often, however, companies trade these core strengths for complexity as they grow to scale, losing sight of what they really do best. Redefining what is great and what is repeatable in a company's DNA is the key to getting back on track.
Consider Starbucks Coffee Co. When Howard Schultz took over the Seattle coffee company in 1987, his mission was clear: Serve the highest-quality coffee drinks in an environment conducive to meeting and hanging out. But as the company expanded rapidly — and Schultz stepped aside for eight years — it lost its focus.
New, more efficient espresso machines distanced baristas from customers, for instance, and the aroma of heated food overwhelmed the signature roasted coffee smell in stores. As results and the stock price withered, Schultz stepped back in as CEO in 2008 and brought with him a return to the Founder's Mentality. "Obsessed with growth, we took our eye off operations and became distracted from the core of our business," he explained in his book Onward: How Starbucks Fought for Its Life without Losing Its Soul.
Delivering Lasting Advantage
Great repeatable models pose an interesting paradox. On the face of it, their advantages ought not to be durable. Their differentiation is stark, their values and organizational structures are usually well publicized. So how can they enjoy a sustainable competitive advantage if everyone knows their secrets? For three reasons:
• They compress the distance from management to the front line. The very simplicity of the model raises a barrier to entry or imitation. When the typical company expands into new businesses and markets, its risks and uncertainties multiply, claims on managerial attention increase and competition comes from new sources. All these external realities increase organizational complexity that distances leaders from the front line.
Great repeatable models, on the other hand, cut through complexity by allowing leaders to trust their people to make the right decisions based on a simple value proposition. That frees time to focus on customer trends, market evolution and the threats that demand immediate response.
• They decide better and faster. In a world where the pace of change is increasing, the ability to decide and act more effectively than adversaries is an enormous advantage both in operations and in innovation. It accelerates the delivery of results in complex markets and organizations.
The learning processes of great repeatable models help them recognize change early. Their strongly rooted cultures enable them to quickly reach consensus on a course of action, and their trust in employees enables people on the front line to make decisions faster.
• They master the art of continuous improvement. Anyone with a back­ground in finance knows that small differences compound to make very big ones. Consider a company that uses superior systems for continuous feedback and improvement, to reduce its costs more than rivals.
An annual improvement of just 15 basis points (0.15 percent) in overhead and 30 basis points (.3 percent) in variable costs would increase its value (all else equal) relative to the competition by nearly 50 percent over 10 years. About four-fifths of the gains would come from earning improvements and the rest from higher market value per dollar of earnings.
The advantages that flow from a simple business model are powerful even in a stable industry. In a highly dynamic one, they constitute trump cards because other sources of competitive advantage — scale, dedicated distribution channels and the like — can swiftly become liabilities.
The world is complex, and it changes quickly. In such an environment, keeping the business simple and repeatable is a tremendously powerful — and sustainable — advantage.