For quite some time we've been hearing about and experiencing the War on Talent. Even if the Canadian economy remains somewhat fragile and concern about our Natural Resource industries clouds the future, the American economy has strengthened dramatically and local companies have been hiring again at a steady pace for the first time since 2009. In fact, we're experiencing a pattern we haven't seen in years – candidates are getting multiple job offers!
Of course, those candidates can only accept one of those offers so the other companies will be "left at the alter". We've been fortunate that our clients' offers have been accepted more often than not but we have had to default to a second-choice candidates or at times start the Search project all over. Naturally then, this article by George Bradt titled "How To Win The War For Talent In 2015" caught our attention. Rather than publicize the War for Talent like so many others, Mr. Bradt writes about ways companies can improve their chances of winning The War.  
With unemployment in the Kitchener/Waterloo – Guelph – Cambridge "golden triangle" hovering just above 4%, we're essentially dealing with a situation where everyone who wants to work, is working. Almost 90% of our placements are made with a candidate leaving one job to go to another. This shifts leverage to Candidates; it's simply not a Hirers Market anymore like it was from 2009 to 2013. Companies now need to sell themselves to cautious, selective candidates as an Employer of Choice and that's simply hard to do with merely posting on a job board.
As much as we're recognized for searching for, and finding candidates who meet clients' selection criteria, sometimes I think we're most valuable as Ambassadors of our clients. When we approach candidates we introduce them to our clients identities, highlighting their histories & plans, workplace culture, competencies, competitive position in their markets and needs that candidates' skill sets can solve. In essence, we "brand" our clients so they're attractive to properly skilled and experienced candidates. Once we've recruited and helped hire the chosen candidate, responsibility for effective Onboarding and Training to earn Retention falls in our clients' laps. There are many articles in the public domain documenting the importance of effective Onboarding that are well worth reviewing.
Enjoy the article!  
How to Win the War For Talent in 2015
---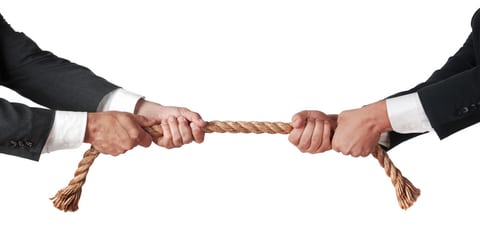 By: George Bradtm, Contributor for Forbes
There has been a seismic shift in the war for talent. Those that don't understand that shift and change their approach to talent management are going to fall into a newly opened crevasse from which they may never escape.
As the US approaches full employment and Millennials become the largest cohort in the workforce the basis of competition has shifted from managing with a small, core group of employees and outsourcing as much as possible to building and maintaining an advantageous employee base. Hence the need for a renewed emphasis on and new ways of recruiting, onboarding and retaining top talent.
"Never fire anyone until you know who is going to do their job."
PrimeGenesis partner Rob Gregory has been saying this for decades. He was right when he first said it and he's still right. Now we have to add the admonition to "Never let anyone quit until you know who is going to do his or her job." People know when they're not doing well. They know when they've fallen out of favor and when they are being stifled. When the unemployment rate was 10% a few years ago, they had nowhere to go. As we approach full employment, they're going to have more options – while you have fewer options for how to replace them.
Add to that the way organizations have treated their employees over the recent past. Any semblance of loyalty to employees has gone by the wayside as organizations did wave after wave of restructuring and cut back benefits including pensions and healthcare. This is the only organizational context Millennials have ever seen. They are going to be especially prone to jumping on newly emerging opportunities.
War for talent shifts:
As we approach full employment, employees have more options and employers have less.
Organizations must now deal with the society of "free-agent" employees they've created.
This means it's going to be harder and harder to find and replace top talent. So you must improve your ability to recruit, onboard and retain it.
Improving recruiting, onboarding and retention
Nfrastructure's CEO, Dan Pickett, shared his thoughts on how to do just this. They've had a 97% employee retention rate over the past four years as they've experienced 5x year over year growth. The core of his argument is focused on your story, transparency and adaptability.
"Tell a story that attracts the talent you seek"
Winners like winners. If you want to attract rock stars you must tell "a strong story about your organization that makes the market's most skilled free agents want to join the team". The shift is that you must market your organization to them. Don't assume they understand what you do or why it matters.
Craft and tell your story.
"Commit yourself to transparency"
In Picket's mind, this is the key to partnership. "Partners have the same goals…build together…share in success." Merge your goals and theirs with complete, open leadership. Help them advance their own skillsets. Provide a path to executive management. Help them solidify their own reputations as thought leaders.
"Kill 'That's how we've always done things' once and for all"
Innovation and growth, by definition, involve doing things differently. Instead of controlling for uniformity, treat people like people, promote on a meritocratic base and take the time to cultivate employee interests. As three separate characters in "The Imitation Game" put it, "Sometimes it is the people no one imagines anything of who do the things that no one can imagine." Give them the space to do things you have not yet imagined.
With that in mind:
Improve your recruiting by crafting and telling a more meaningful story.
Improve your onboarding, accommodating, assimilating and accelerating their performance as partners with merged goals shared together.
Improve your retention by making your organization the one in which they have the best chance of doing even more even better than anyone ever imagined.
That's how you win the war for talent in 2015.