We found this article by John Paul Williams in Industry Week last month that speaks to the shortage of talent we've been experiencing for some time now. At the Executive and Managerial levels we traditionally work at, few companies hired and developed employees between 2008 and 2013. As the Baby Boomers have neared retirement, there's a lack of internal replacements ready and able to step up.
This "vacuum" of trained talent doesn't just apply to professional and managerial ranks of Engineering, Accounting, Quality, Supply Chain, Sales & Marketing or Production. We know of companies who will pay recruiting fees for skilled trades such as Millwrights and Machinists!
It would appear that we Baby Boomers have motivated our children to post-secondary education and "white collar" careers only to find that jobs in their fields have dried up. Had we perhaps motivated them toward "the trades", industry would be better served and they would be enjoying highly paid careers.
While Mr. Williams offers "10 ways Manufacturers Can Beat the Talent Shortage" we're reminded of companies we know that draw high school students in for part-time work hoping they'll enter an apprenticeship or have graduating classes of Automation Engineering Technologists spend a day touring their facilities hoping they can hire several. Whether by applying any of Mr. Williams' ten suggestions, by emulating these other companies we know or any other creative way to attract, train and retain professional and skilled talent, the main message has to be that companies have to try something, anything different. Not to try is not the solution.  Enjoy the article.
Jim Fairfax
jimf@kitchenerexecutive.com
How Manufacturing Can Solve Its Own Talent Shortage Crisis
John Paul Williams, Industry Week August 2014
For the class of 2014, the future seems bleak. In a recent study conducted by the Economic Policy Institute, the authors say labor effects of the Great Recession have "idled" recent graduates. The longest and most severe period of economic weakness has many well-educated young Millenials asking, "Will I ever have the career I want?"
 "There are no good jobs out there."
The unemployment rate for college grads has grown to 8.5% — up 3% from 2007. But even more worrisome, many prospective workers are not even looking. One million potential employees have simply given up, sending underemployment rates spiraling to 16.8%. This trend has a potentially catastrophic effect, not just on these individuals' futures, but also on the nation's prospects. Parents, economists and corporate CEOs know: Recent graduates are sitting out years when they should be gaining rich professional experiences, climbing the corporate ladder and growing their salaries, not to mention contributing to the country's tax base.
 "There's a shortage of talent out there."
There's another side to this story. Manufacturers say they have jobs a-plenty, but they're in an industry that doesn't have the cache of leading technology companies such as Amazon, Google, and Facebook or industry disrupters such as BuzzFeed, Nest and Uber.
The manufacturing industry is struggling to attract, hire and retain talent for roles ranging from skilled production workers, to R&D and big data experts, to operational and business managers. This infographic on the top talent challenges in today's manufacturing environment provides insights on key drivers behind the manufacturing shortage. They include:
Lack of interest and negative perception of manufacturing — 52% of all teenagers say they have no interest in a manufacturing career. Of those uninterested youth, 61% cited wanting a "professional career," no doubt maintaining the perception that a manufacturing career entailed a "dirty, dangerous place that requires little thinking or skill from its workers and offers minimal opportunity for personal growth or career advancement."
Industry needs are shifting — While there will always be a need for low-cost workers for commodity manufacturing, disruptive technology has transformed the talent profile for much of the industry. What's needed: knowledge workers who can leverage big data analytics programs, 3D modeling and printing, and robotics, among other emerging technologies, to drive product and process innovation to new heights, while accelerating development cycles.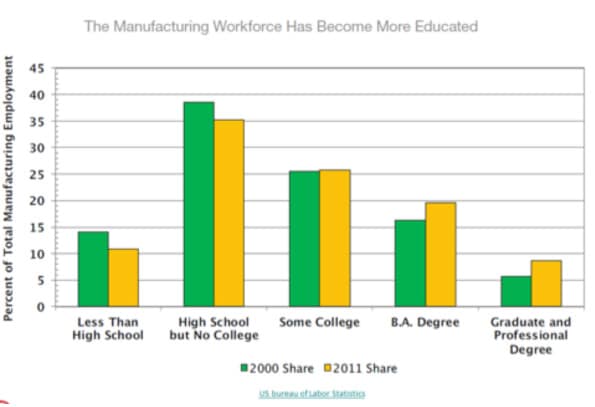 However, attracting and retaining skilled employees requires a new approach. Companies will need to create new talent development paradigms to compete for top talent, as well as implement programs to upskill or cross-skill workers who don't have the right background to build and maintain a sustainable workforce. 
The gray shift goes dark — The silver tsunami, or mass retirement, of aging workers threatens to wash away corporate knowledge and slow progress towards strategic goals. The baby boomer generation of skilled workers will retire in the next five to 15 years, creating the need for an estimated 10 million new workers by 2020.
Manufacturing Industry Positioned to Answer the Call
College graduates realize that the competition for the best jobs will only get fiercer. Meanwhile, C-level manufacturing executives know that that they will fight harder than ever for skilled, experienced workers who understand the business context and can cast a vision for how the industry is changing.
It's time for the two to meet in the middle. The path to success for both starts with self-disruption.
College graduates need to reshape their perspectives on manufacturing. They can explore exciting opportunities by participating in internships, joining innovation jams and leveraging MOOCs (massive open online courses) to learn about corporate priorities and systems or even acquire advanced degrees. SAP offers a wealth of courses on its technologies via Open SAP. AT&T is also partnering with Udacity and Georgia Tech to offer an online masters degree in computer science.
U.S. employers should attract young Millenials who value freedom, flexibility and entrepreneurialism by giving them what they want. Many companies are empowering staff to work where they want and maintain their own hours, using sophisticated video collaboration tools to collaborate with their global peers. In addition, they're providing young workers a chance to lead early and often – heading projects, teams and new businesses – so they can gain management expertise.
The manufacturing industry is uniquely positioned to address its own talent shortage. But how does it develop an empowered, highly skilled and loyal workforce? Smart companies are educating suppliers, partners, and customers, as well as current and prospective employees.
Here are 10 ways manufacturers can help defy the distance between today's talent shortage and their firms, and create a highly skilled, loyal workforce that propels their company forward:
Develop a role-based career progression model and share it with your workers.
Leverage company and industry specific knowledge; enable your best thinkers who understand your company's unique environment, business processes, and competitive advantage to train others.
Provide workers with exciting opportunities to lead R&D initiatives and test and implement new technologies and processes. Provide a safe environment for failure often this is when the greatest insights are gained. The next attempts will be far more effective.
Create virtual networks and resources workers can harness at a moment's notice to help them chart their course and learn from others.
Provide on-the-job coaching and mentoring to bridge gaps and empower employees.
Use collaborative technologies to lure thought leaders to your company, while respecting their desire to live and work elsewhere.
Think global, leveraging the power of your global brand to recruit and retain staff, but also tailoring the work environment and experience to local needs and values.
Build external relationships with suppliers, business executives, education partners, local government officials, and other business leaders who can push for change.
Create a workforce management strategy that maps to business objectives and establish governance and metrics to measure progress.
It's time to move beyond decrying unemployment statistics to crafting sustainable solutions. Manufacturing is uniquely equipped to solve its own talent shortage by redesigning its hiring and development strategies and building exciting learning and knowledge programs with virtual platforms.